An internationally working restaurant chain opened a branch near to a central place of town a few months ago. They offer many various hot beverages, cakes and snacks.
After I had entered the branch, I found myself in a line. The customers were patiently waiting for the bar staff to sell them berverages and dishes. Cakes and dishes were in a refrigerated counter. Beverages were listed on big boards behind the bar, mainly in English. I saw no separate menus or lists of beverages on the tables.
During the short wait I didn't have time enough to get an overview of all beverages and dishes and to choose something calmly. Besides the staff behind the bar there were not waiters and waitresses.
There were several separated rooms for the customers. In the room, were the bar was, were mainly coffeehouse tables and chairs. In the adjoining room were also coffeehouse tables, but in the end the fixtures in this room were a strangely indefinable mélange. Two easy chairs and a low side table namely stood on a strip of carpet at the window.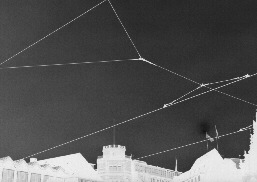 A look at the global sky from a central place in Bremen (negative)
The art reproductions on the walls were either completely non- objective nor completely figurative. Besides those art reproductions there were some framed photographs of Mediterranean streets. Even the inevitable background music was a medley of slightly shallow international pop music. In this room I sat down and consumed a croissant which had been heated up in a microwave oven. I had hardly put fork and knife down when a member of the bar staff came and tried to clear up the dishes. I successfully advised him against doing that.
Then I looked around. I saw an about thirty-year old man sitting at the window. He was writing something by means of his notebook computer. He often stared out of the window and into space. Mainly women, who were in their twenties, were sitting at the tables and were having a lively conversation.At a neighbouring table a young woman and a young man were temperamentally talking in Turkish. A young family later sat down at an other neighbouring table.
I finally took my mug of coffee and went to the next room. There was a wall-to-wall carpeting.