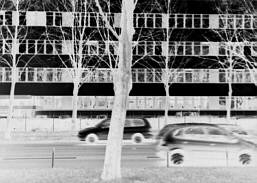 At the next table everyone was in good spirits. Two young women, who wore smart clothes and scarfs, were kept on the go by their little children. One of the children was an about four-year old boy. He took shelter from all the restlessness in the corner of the room where my table was. He took a single chair. He got a continuous coughing fit.
A pale young woman came in. She had two children with her. The girl and the boy also had a very pale complexion. They had clothes on, which looked a little bit worn. The children immediately crept into the fabrice house and played in there.
When the stream of guests died down, I left the tearoom.I must confess that I wasn't unhappy in the company of those people. Nobody acted the big shot. I was maybe a company of people who didn't quite cope with the dog-eat-dog society.
The next day I saw the people in the tram in a different light. Many of the elderly women in the tram looked like those ethnic German emmigrants from Russia I saw at the door of distributing office, to be precise they were absolutely unconspicuous.
(My wife Christine helped me to translate the text. Thanks.)
Please also read:
A modern supermarket
Signs of Upheaval 4
Encounters 8
Places (19)
about a small shopping center
Charlie Dittmeier's article about
people, who collect trash for resale
in Phnom Penh, diary entry of February 29 2004. The link leads to the latest entry of the diary. Please scroll down.
Comments?
Klein Mexiko welcomes your response to any article. Please send e-mail to
info@kleinmexiko.de
Next issue 'The Daily Groove'
on Thursday, February 15 2007

&lt
previous issue
next issue
&gt
Please also read
Cats Talk (33)