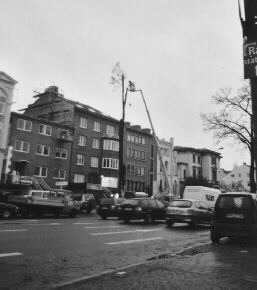 A worker cut out small pieces of a big branch at the top of a tree.
The worker told me that a heavy squall had broken off a part of the trunk. The tree had forked in early life. Such forks only ride out a limited numbers of storms. The broken part of the tree trunk had fallen into a valuable parked car. The worker didn't tell me anything about injured persons. He estimated that the tree was about hundred years old. He told me that the tree was a baldcypress and had no disease.
(My wife Christine helped me to translate the text. Thanks.)
(to be continued)
Failures (1)
A fact of life on Phnom Penh streets are the telephone and power lines dangling low, even touching the roadway. Please have a look at 'Daily life in Cambodia 2006', entry
February 28 2006
The link leads to the latest entry of the diary.
Comments?
Klein Mexiko welcomes your response to any article. Please send e-mail to
info@kleinmexiko.de
The next issue 'The Daily Groove'
because of technical rearrangements
Saturday, March 18 2006

&lt
previous issue
next issue
&gt
Please also read
Cats Talk (29)