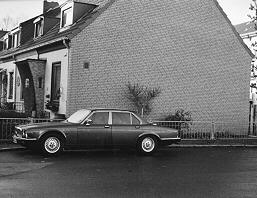 A big Jaguar sedan in a turning area in our estate of terraced houses.
It's safe to assume, that the owners of luxury cars and high-end roadsters kept out of that proletarian quarter at that time. Those fears of contacts have obviously vanished.
(My wife Christine helped me to translate the text. Thanks.)
Please also read Charlie Dittmeier's diary entry of
October 29 2002
about cyclo drivers in Phnom Penh. The link leads to the latest entry of the diary. Please scroll down if necessary.
The international poster organisation Loesje has started a
project
to train young people from all over Europe and Asia in how to organise and coordinate information campaigns about the Millennium Development Goals. These goals are set by the United Nations to fight poverty and to improve living standards world wide.
Comments?
Klein Mexiko welcomes your response to any article. Please send e-mail to
info@kleinmexiko.de
Next issue 'The Daily Groove'
on Thursday, February 28 2008


&lt
previous issue
next issue
&gt
Please also read
Cats Talk (37)