Issue 7/2009, March 27 2009 (No. 282)


When choosing products or services, please consider our advertisers.


It takes up a lot of time for me to find places where I can gain new insights into well-known circumstances. I recently wandered through an almost unpeopled area for hours. The area is located in an outlying district and it consists of allotments and railway property and is also crossed by a motorway. This hike made me feel calm. This calmness gave me a new view of an actually well-known periphery of human settlement to which I took some side-trips from that unpeopled area. The gain of this hike were two photographs.

It also takes up a lot of time, when I just take a contemplative look at places I frequented before. It is only after quite a while when the familiar things suddenly get strange and reveal new sides. I am often eyed by people, when I am staying at a place, where normally nobody stops, for an hour or longer, especially when those people brush past me again after a while whereas I am still calmly standing at the same place.

Standing still and contemplating is helpful to realistically estimate the inertia of people and circumstances. It immunizes against a naïve belief one could change the world in a surprise attack. It also immunizes against grandiose promises of publicity slogans of companies and political parties. It strengthens the belief that almost only persevering for small changes durably comes to fruition.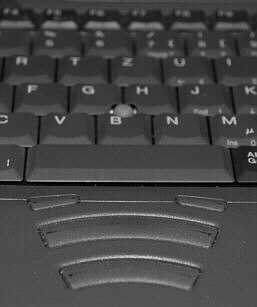 A keyboard
Please also read the article about
political slogans
Please also read Charlie Dittmeier's
report (November 10 2008)
about appearance and reality of Cambodian policy.
The international poster organisation Loesje has started a
project
to train young people from all over Europe and Asia in how to organise and coordinate information campaigns about the Millennium Development Goals. These goals are set by the United Nations to fight poverty and to improve living standards world wide.
Comments?
Klein Mexiko welcomes your response to any article. Please send e-mail to
info@kleinmexiko.de
Next issue 'The Daily Groove'
on Friday, April 10 2009


&lt
previous issue
next issue
&gt
Please also read
Cats Talk (42)
place marker for advertisement


&nbsp