Friends, Romans, countrymen, lend me your ears.
William Shakespeare: Julius Caesar
The citizen who sees his society's democratic clothes being worn out and does not cry out is not a patriot but a traitor.
Mark Twain
At present the parties are running a state election campaign in Bremen. At the roadside you often see a lot of election posters.
On a poster of a big ruling party a boyish, softly smiling man with rimless glasses is presenting himself. He is casually wearing no jacket. His shirt has been pushed up a little bit behind the collar. His head and his neck are looking a little bit small in comparision with his clothes. Altogether he is looking like a white collar worker.
Near to his shoulders is a quite bold writing ' A powerful mayor' . Near to the logo is a writing 'Powerful Bremen'. The German word the advertising experts used for 'powerful' is 'stark'. 'Stark' is a word which in the first place refers to physical strength and physical power. In the figurative sense it also refers to mental traits, economic, political and social power.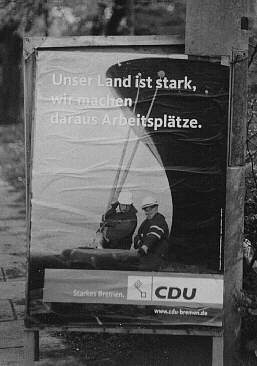 The word 'stark' is also being used in a figurative sense on another poster of that party. 'Our state is powerful, we add new jobs to our state.' The poster is showing two workers in front of a huge bow. In reality the importance of the shipbuilding industry has been falling off for the last years, especially because two big shipyards were closed down. The importance of the ports of Bremen has also been falling off in comparision with the golden age in the fifties and sixties. A harbour basin was even filled up a few years ago. But there has been a growth in goods transshipped for the last years. This advertising by means of the ports and the shipbuilding industry is contrasting with the declarations of almost all politicians of allmost all parties. They often declare that they are going to promote information technology.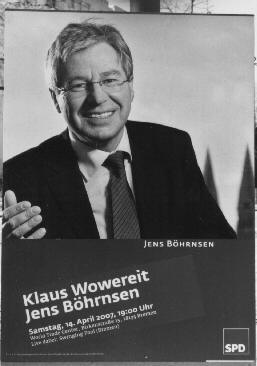 Another poster shows the number one candidate of the other big ruling party. Behind him you can see the blue sky and blurred shadow of the cathedral of Bremen. He has a soft well-fed face of a white collar worker and grey hair. He is wearing rimless glasses and a dark blue jacket. He is smiling as a person smiles who has to smile. He has lifted his right hand as if he is speaking to the people or affablely inviting them. But you can see that this gesture isn't spontaneous. The gesture suits to the message of the poster. The writing on the poster informs the people of the name of the candidate and of the party.