Man wants but little here below,
Nor wants that little long.

Oliver Goldsmith. (1730?-1774)
The Hermit. Chap.VIII. Stanza 8
At the end of March I found a bill on a lamppost in the district where I
deliver papers
in the morning 'Family (Professor, doctor, two children, 3 and 6 years old) is looking for a cheerful house in typical Old Bremen style with a garden. Living space from 250 sq.m up, but we'd be glad to have more living space than 250 sq.m. We'd very pleased if you give us a call. We'd like to come for a short-term viewing date.' Two little bills with the familie's phone number had already been torn off. Many houses in the street in fact have about 280 sq.m. living space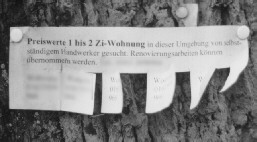 The bill of the workman
The same day I found a faded bill on a tree trunk in the neighbourhood of my street. 'Self-employed workman is looking for a very reasonable one-room appartment or one-bedroom flat around here. I'm willing to take on redecoration.' No bill with the phone number had been torn off yet. There are no one-room appartments or one-bedroom flats in our
terraced housing estate
. May be that there are such appartments or flats in the neighbouring blocks. In our housing estate there are only the small houses with three small rooms, a kitchen and a tiny bathroom. The living space is about 60 sq.m.The plots of land are 77 metres square. Ten or twenty years ago families of three or four as a rule lived in the houses. Nowadays many childless couples and singles also live in the housing estate.