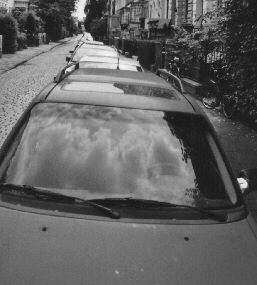 Cars, cars, cars in a suburbian street
V 70 / Vectra 1.6i / Vectra 1.6 16V / VitaraYaris Verso / Vito / Voyager Family Comfort
Xantia / Xm
Zafira
1.8 / 19 / 160 / 2X / 2.5D / 206 / 207CC / 240 / 308 / 320i / 323 F / 323 F Classic / 480 Turbo / 4 GTL / 5TR / 900i 2.1 16 Value
(My wife Christine helped me to translate the text. Thanks.)
Please also read Charlie Dittmeier's
article
about people in Phnom Penh who bring their car into the living room at night.
The international poster organisation Loesje has started a
project
to train young people from all over Europe and Asia in how to organise and coordinate information campaigns about the Millennium Development Goals. These goals are set by the United Nations to fight poverty and to improve living standards world wide.
Comments?
Klein Mexiko welcomes your response to any article. Please send e-mail to
info@kleinmexiko.de
Next issue 'The Daily Groove'
on Thursday, July 17 2008


&lt
previous issue
next issue
&gt
Please also read
Cats Talk (38)