Issue 13/2009, June 19 2009 (No. 288)


When choosing products or services, please consider our advertisers.


Instead, test everything. Hold on to what is good.
1 Thessalonians 5:21


I am very free to impart my observations and thoughts, due to the Internet. This way a little documentary-literary world, where abundance and empty space alternate, has been originated over the years. I feel more and more grateful for being able to create that little world.

I am a quite ordenary man. I now often think, that all other ordenary people or not quite ordenary people also have such a little world or even a great world within themselves And I think how good it would be, if we made those worlds available to each other.

At the same time I shrink from that idea. When you put your inward abundance on the market in this day and age, the abundance will immediately change into goods, which is selling or not. This way the part of the abundance, which is not selling, becomes worthless. But it in no way becomes meaningless for the community, just because it isn't marketable.

How can I contribute to making this part of the abundance accessible to the people? I can try harder to have an open mind about the inward abundance of other people and living creatures. I can try harder to do a lot for the freedom of speech of other pepole. I can try to compare myself less with other people.

Those are enough tasks for the time being.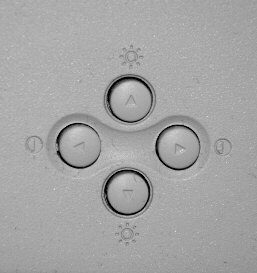 Panel of a monitor (detail)
Please also read the article
Writing for the web (24)
Please also read Charlie Dittmeier's
report about a young Cambodian man, who returned to Phnom Phen in order to give a year of his life teaching at the university after finishing his studies and his doctorate.
The report is dated September 5 2001. The link leads to the latest entry of the diary. Please scroll down .
The international poster organisation Loesje has started a
project
to train young people from all over Europe and Asia in how to organise and coordinate information campaigns about the Millennium Development Goals. These goals are set by the United Nations to fight poverty and to improve living standards world wide.
Comments?
Klein Mexiko welcomes your response to any article. Please send e-mail to
info@kleinmexiko.de
Next issue 'The Daily Groove'
on Friday, July 3 2009


&lt
previous issue
next issue
&gt
Please also read
Cats Talk (42)
place marker for advertisement


&nbsp