The large room of 'Café Schriefer'
Many kinds and varieties of tee and coffee were served. There were also about 20 sorts of spirituous beverages and soft drinks. The waitresses always quickly served the drinks and cakes you had ordered. They never asked 'Would you like anything else?' At 'Café Schriefer' you could talk in peace with your companion.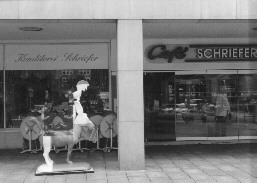 The front door of 'Café Schriefer'
One can only speculate on the reason why 'Café Schriefer' was closed down. The waitresses insinuated that the tenancy agreement would exspire and that the landlord had claimed a very heavy tenancy.
(My wife Christine helped me to translate the text. Thanks.)
Signs of Upheaval 6
Did you like it? (Summary)
Please also read Charlie Dittmeier's diary entry of
January 2 2006
about a small mobile food stall in Phnom Penh.The link leads to the latest entry of the diary. Please scroll down.
The international poster organisation Loesje has started a
project
to train young people from all over Europe and Asia in how to organise and coordinate information campaigns about the Millennium Development Goals. These goals are set by the United Nations to fight poverty and to improve living standards world wide.
Comments?
Klein Mexiko welcomes your response to any article. Please send e-mail to
info@kleinmexiko.de
Next issue 'The Daily Groove'
on Thursday, August 30 2007

&lt
previous issue
next issue
&gt
Please also read
Cats Talk (35)