It was only when I took a look at the picture on the lower part of the poster that I understood the meaning of the sentence and especially of the word 'sub'. A special filled French stick was assigned to each day of the week. So each French stick was the 'Sub' of the respective day.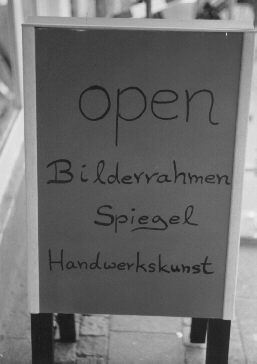 Some 100 metres away from the chain restaurant I saw an advertising sign in front of an unconspicouos litte arts and crafts shop. Among other words in German there was the English word 'open' in large handwriting. The owner of the shop obviously wanted to point out that his shop was open.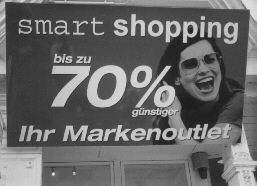 Above the entrance of a clothes shop I saw a large sign with the writing 'smart shopping ... bis zu 70 % günstiger ... Ihr Markenoutlet' ( 'smart shopping ... discount up to 70%...a branded articles outlet for you'). I suppose that this slogans were designed to appeal to young people who jump at English insertions.
(My wife Christine helped me to translate the text. Thanks.)
(to be continued)
Please read also:
Finds (2)
I have often been linking to 'Daily Live in Cambodia'. The author of that website, Charlie Dittmeier, does a lot of work for deaf people in Cambodia and especially for the development of
a sign language in Cambodia
.
You can find further information about American sign language in
an ASL
dictionary
or
an ASL
browser
.
Comments?
Klein Mexiko welcomes your response to any article. Please send e-mail to
info@kleinmexiko.de
Next issue 'The Daily Groove'
Thursday, October 5 2006

&lt
previous issue
next issue
&gt
Please also read
Cats Talk (31)