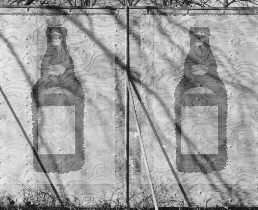 photomontage hoarding/ beer bottles
The newspaper reported that the people also had shot the ball at the windows of some adjoining restaurants and had thrown bottles at the policemen who were on duty.
On Tuesday, October 30 2007, there was a report in the local news pages that said that the police had demanded a ban on glass beer bottles within this crossroads. in the business section was a headline 'Breweries hope for Football European Championships/ Decline in beer sales'
(My wife Christine helped me to translate the text. Thanks.)
Advent 5
Slogans (27)
Please also read Charlie Dittmeier's diary entry of
January 17 2007
about poor people in Phnom Penh who sniff glue. The link leads to the latest entry of the diary. Please scroll down.
The international poster organisation Loesje has started a
project
to train young people from all over Europe and Asia in how to organise and coordinate information campaigns about the Millennium Development Goals. These goals are set by the United Nations to fight poverty and to improve living standards world wide.
Comments?
Klein Mexiko welcomes your response to any article. Please send e-mail to
info@kleinmexiko.de
Next issue 'The Daily Groove'
on Thursday, November 22 2007.



&lt
previous issue
next issue
&gt
Please also read
Cats Talk (36)