A few weeks ago it gave me a scare, when I distinctly felt for the first time, that our immediate natural environment and our social position had changed. The place, where this realization gave me a scare, was our little backyard.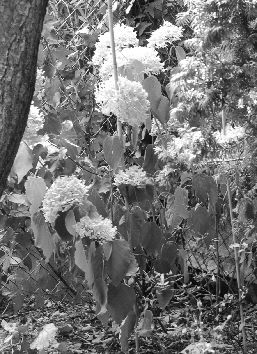 A hydrangea, which I had watered the previous evening, went limp again the next day at midday.

This summer was as warm as last summers and it rained very little.

So I had to water the small flowerbeds and lawn almost every evening in order to save the plants from drying out. But one day, to my fright, I saw that a hydrangea, which I had extensively watered the previous evening, went limp again at midday. It was only at that very moment when I really saw that the big wildplum in our garden had already cast abnormally many dry leaves this summer. But of course not only our plum tree reacted to that heat and drought in this way. Thick layers of dry leaves from the avenue trees laid on the small grass verges all over town.

But not only our plants had dried up. When I took a look at our new garten-table, I distinctly felt that the finances of my wife and I have fairly up dried over the years. We have scraped along on self-chosen low-wage jobs and on the little procceds from our self-employed creative work for years. We haven't gone on holiday for years. This year the money in our piggy bank was just enough to buy the little gardentable where we sometimes sat, when we didn't have to go to work.

By the way - I don't think that there is a universal human right to holiday trips.