We don't need other worlds, we need mirrors.
Stanislaw Lem: Solaris
There is an election campaign in Germany. A large number of election posters is altering the urban landscape. The election posters of the litte parties emerged first at the corners of the nearest crossroads.
During the last election campaign one of the little parties didn't use the national colours for their posters. This time the party is skilfully using them. On the top left there is a bit of black colour. Next to it there is an area of red colour. This area seems to be part of a flapping flag. The red area finally blends with the yellow backgound colour of the poster.
On one poster of this party one can see the chairman of their group in the parliament. It is a head-and-shoulders portrait of an about sixty-year-old well-fed man. His hair is greying. He has an accurate parting. He is smiling sligthly. His eyes are slightly narrowed. He is looking critically. His shirt is white. His suit is black. His tie is blue and gold-coloured. He looks like a business man, for example like an employee of a loan department.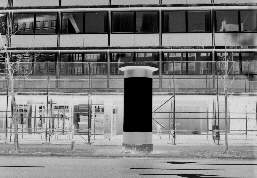 Still life (negative): Herdentorsteinweg 2004
On a level with his tie his name is written on the poster. He calls himself doctor. Below the head-and-shoulders portrait is a white area. On this white area is an announcement of an election meeting. At this meeting the politician will make a speech about the subject ' the power of freedom - modernization of Germany'.
The poster of an other little party is also announcing an election meeting. At this meeting a minister of the party will make a speech. On the poster one can see his broad head from the middle of the forehead to the chin. There is a grey streak on his forehead. His eyes are looking seriously. His mouth is closed. One can see that he is wearing a black suit, a white shirt and a tie. He also looks like a business man, for example like a traveling salesman.