On a rainy day in November I saw a man who stood in front of a hypermarket and played the accordion. A alms-basket was in front of his feet. I had never seen buskers in front of a hypermaket before.
I took a discreet look at the man. His face was tanned. He had a moustache. He wore a thick wool hat. He was wrapped up in a winter coat. His trousers seemed to be made of heavy fabric. But his white new gym shoes didn't go with his clothes.
During the short time when focussed my attention on him he reprised a melancholic tune in portato again and again. He bowed to all people who entered and left the hypermarket.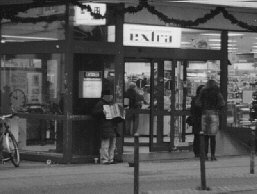 A young woman from Romania played the accordion at the entrance of a hypermarket.
I drove downtown. When I was approaching the next branch of the chain hypermarket, I already heard the well-known tune. At the entrance stood a young woman. She had a dark complexion. She also wore a thick wool hat and a winter coat. There was also alms-basket in front of her feet.
After I had discreetly taken a photo of her, I approached her and a asked for her home country. She said 'Romania'. I went into the first bakery I came across and bought a slice of a wholemeal cake for her. When I handed it her, she asked me 'Is it food?' I had the chance to take a look at her accordion. A section of the covering had come loose.