A
fter unfortunately Paul had left us on May 19th 2005, it was silent and sad in our home for some weeks. This was to be changed very much when the cat sisters and brothers Käthe and Karl moved in on July 6th 2005. This fact went the rounds not only here but also in the cat heaven. Our old and unforgetable friends Peter and Paul where the first who recognized this change. Of course from now on it was topic No. one between them.
Paul:
'I find it stupid that our master has two new cats, don't you?'
Peter:
: 'Yes, so do I, but she was so alone without us, and we were glad too when we were allowed to leave the home for animals, even when we hid under the bed at first, just like those two.'
Paul:
'They also eat so much now, like you always did when we were still on earth. The she-cat with its brown patches becomes more and more spherical.'
Peter:
: 'And they run among the flat and threw everything down which belongs to our master. Our behaviour was really better, mostly at least.'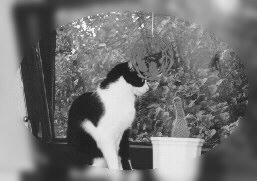 I'm busy with bird-watching.
Paul:
'Look at the black-white cat, how big feet he has!'