I have already lived in this estate for 8 years now, but I havn't introduced myself yet. My name is Tiger, and there is even a document about my birthday. I namely was born in September 19th 1998 somewhere but soon moved over to my new family. This one I have under my control very well as you will get to know now.
I am a tom cat of night, but also by day I attach great importance to tidy domestic conditions. So I have many favourite places, which I want to be found always vacant if required. One of them is the window seat in the kitchen, from which I some bored look at the pavement watching the people going by. I get some annoyed when it rains all day. Then it can happen that I go on my family's nervs, so they say at least.
When I can't stand it all any longer I lay down on the kitchen bank and stretch myself cosyly. As long, yes as long as I have enough of it too. For a change I proceed to the living-room, look if someone is there, if yes, I enjoy beeing stroked on the sofa for a long time.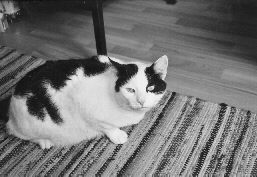 But I keep a little distance, because I'm not a lapdog at last. Which one of my eyes I take my bearings to the neighbour armchair. On it there is lying a blanket at my own request. If even so somebody should dare to sit there, I'll become merciless and stare as long at the bad person as he disappears voluntary. Mostly that works without a hitch. By the way I don't scratch the sofa but use my scratch-tree very well. Another passion of mine is eating. Hearing the clicking of the refrigerator door I'm immediately there. But I choose well.