I
The yearly vaccination was the order of the day, to which my master draged me to the veterinarian. My sister Käthe had also got this procedure over one day ago. But this time the annoying consultation shouldn't end without problems for me.
I was listened to my chest and then the veterinarian said something of a noise at my heart and looked seriously with it. My master looked some astonished and helplessly and then I heard the veterinarian talking about a further examination which I had to be issued at the same day. My Master and I should wait for it in the waiting room for a while. Suddenly she stood up and took me with her to the reception. She asked how much such examination would cost , and when she was told about it she immediately left the consulting room with me. Phew, and so I had escaped a further ordeal.
Some days passed by until I was put in the basked again and taken to another veterinarian. Also Peter (+) and Paul (+) had gone to him, and now he should become my family doctor, too. Again I was listened to my chest and my master looked expectantly. But also this doctor detemined a noise of heard, and now it was probably right.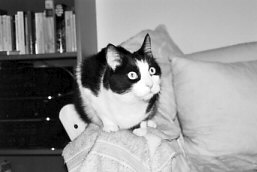 But he didn't order some further expensive examinations. He gave us a stripe with little tablets of which I have to take a half one every day.
Well I don't like it at all, when I get it stuffed into my mouth every day. Therefore my master desperately is thinking something up how to mix the tablets in a tasty tibit for me. First it was mixid in my dearly loved dry feed, but this I only eat when I like it and being not disturbed. Also the me offered "sausages" I don't eat on command. Up to now I at least was always willing, because I don't want to cause my master any worry.
My fellow sufferer Krautzi, who already has lived in this house for a long time, has taken these tablets for a year, too. Perhaps he is right, and I should think about my health, too.
&lt
previous issue
next issue
&gt
The next issue 'Cats talk' will be published on October 3 2008
.
'The cat is nature's Beauty.'

French Proverb


When rats infest the Palace a lame cat is better than the swiftest horse.'

Chinese Proverb


All cats look gray in the dark.


A cat has nine lives.


&nbsp