In those shops those people cultivate their native traditions in order to combat their homesickness.

Christine Cimbal-Marocke
At the end of July my wife and I visited a shopping centre in a quarter in the East End of Bremen. The bus we took to reach there had been manufactured in Poland. We wanted to visit some shops where you can buy Russian and Polish foodstuffs.
The word 'good' was a part of the name of the Russian shop. The name was a touchingly naive self-adulation. The shop was obviously no branch store. It was a one-man business. The shop was in a large grey hall which was a little bit bald. Everything seemed to a little bit improvised. Little stick tags on the goods were the price labels. Here and there you saw handwritten price labels on the grey shelves.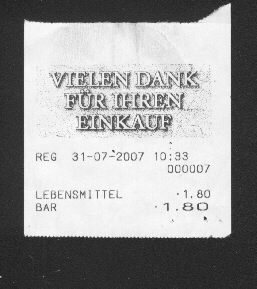 Receipt of the Russian shop: 'Thank you very much for purchasing'
There was an overwhelmingly extensive supply of sweets. There were a lot of shelves which were full of various cookies. Next to the checkout counter there were shelves with about two dozend little compartments for various individually-wrapped candies and little sweets.
There was also large variety of canned pickle, especially tomatoes, cucumbers and coleslaw. All kinds of tomato sauces were on offer. We also saw heaps of sausages, bacons and canned fish. Two freezer cabinets were full of meat pies.
We saw a lot of brands of leaf tea and bagged tea. There were small, middle-sized and big packets. Besides the inevitable supply of vodka various giant bottles of beer caught our eyes. One bottle was shaped like a red fire extinguisher.
At the cash desk, which was already a little bit outdated, was a middle-aged plump man. He helpfully replied to our questions we asked him about the goods. He obviously liked to have a small talk with his compatriots.
Our next destination was a Polish supermarket. The dominant colour of the outdoor advertising and of the store fittings was red. There were a modern scanning cash register, a conveyer belt and a closed-circuit TV. The price labels were on the shelves. It was the appearance of a branch store.
There was also a striking supply of sweets, especially of filled chocolates. On some boxes were historically important names 'Casimir Pulaski' (Father of the American Cavalry, who was born in Poland) and 'Solidarnosc' (anti-Communist trade union movement in Poland).
The custumers also liked to buy packet soups and custard powder. In the freezer cabinets there were no meat pies. But there were a lot of various dumplings filled with fruit like strawberries and plums.