bene est cui deus obtulit Parca quod satis est manu.
Horatius, Carmina (III, 16, 42)
Translation
On October 17 2005 I saw a bill on a tree trunk in an area of allotment gardens. The text of the bill was 'Head of a family, 40 years old, energetic and motivated will be glad to carry out manual work for you. My professions are carpenter, masseur and home male nurse.Well versed in stair cleaning, gardening, ...sekeeping. phone: XXXXXXX' When I passed by the tree a few days later, the bill wasn't there any longer.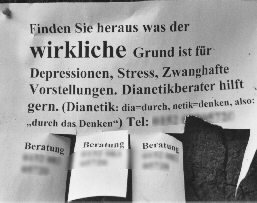 Bill of a D....tik adviser
On October 26 2005 I saw an other bill on a tree trunk right next to the area of allotments. The text of the bill was 'Find out the real cause of depressions, stress , Obsessions. D....tik adviser will be glad to help you. (D....tik: dia=by means of, netik=thinking, so: ''by means of thinking'') phone: XXXXXXXXXX' On that particular day I saw a bill with the same text on a lamppost not far away from the tree. By the way - The science of D....tik is the doctrine of a disputed religious community.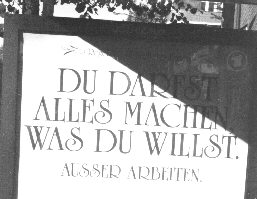 From a poster, which advertised for TV series
On that day I also saw a poster at a bus stop. There was a big writing on the poster 'YOU CAN DO WHAT YOU LIKE!' Below that writing was an other small writing 'EXCEPT WORKING'.