ARCHIVES
CATS TALK
SITEMAP
MASTHEAD
Every time when it is mostly nice, you have to leave. A silly proverb I thougt up to now, but that for me it also should prove to be true, I got to know recently. My master told me that we can't live in our house any longer, because someone would buy it. That was also a shock for me because after all I have lived here for 8 years. So we have to move next year. But until then I will make a lot of antics, aaahhh I mean I want to have really fun.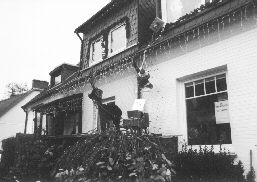 My home nowadays
A good opportunity is the time before Christmas. Already in years past I found it wonderful, when our house was decorated with colorful lights. But in this year everything should be more festive and opulent. Big gleaming parcels were fixed at windows and dors, a Santa Claus clings to his net of lights and an animal with horns standing on its platform pulls a sledge with gift parcels.
As it is relatively warm and sometimes windy outside for some weeks it happens that a parcel falls down an I play soccer with it. It's true that my family doesn't like it but I want to have my fun.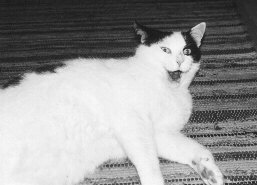 I'm laughing - in spite of everything.
Also the reindeer has fallen down his platform because of the wind, but in this case my master had a good look on it that I wouldn't play with it, too. Our two neighbour houses, which were only decorated a little go along with really well and even some houses further on the opposite there is a candle- lit rally in the window. That makes saying goodbye from here not easy in fact.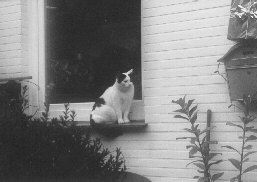 Where will we go?
Up to now it is not clear, where we move, but I do hope, that I find great gardens to stray. My master is afraid, I will always get lost and return back to here, but I won't do it. After all I need a home and a feeding bowl she can place in every kitchen.
&lt
previous issue
next issue
&gt
The next issue 'Cats talk' will be published on April 1 2007.
A cat has nine lives.


When the cat is away the mice will play.


The cat is honest when the meat is out of her reach.


It takes a good many mice to kill a cat.
&nbsp