I was already mentinoned as Tiger's girl friend, that is right actually. My name is Mizzi. There are people who call me something else, because I use to hiss when they stroke my backside. But that therefore they call me "Lout-cat" is quit cheeky. Because anyway I am a lovely one.
Ten years ago my masters picked me up from an animal-shelter, it was love at first sight, and so I already was hard on their heels to that time, too. They namely exactly know what I like. I mostly like to go to my female master, but when she is not there I be content with my master, too. When I'm outside I enjoy beeing stroked by strange people, but only on my head, otherwise I hiss, like I told you.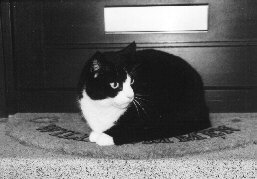 Does a stranger appear?
I most everytime keep close to my home and therefore Tiger has visited me here nearly ever. In summer I love to sleep outside in the garden. There is a lake with goldfishes. I sometimes put my foot into it, but no, however it is too wet for me.