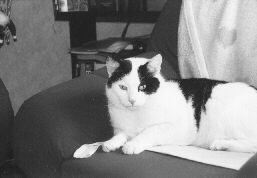 Sometimes it may be some cream cheese but otherwise I prefer a special sort of feed. This one of course only on a clean plate. I am even willing to lick up the pieces, which fall beside it. Concerning the drinking water I also have my own ideas. I prefer dirty water, which stands on the table in a bowl. My master allows me to jump onto the desk and drink out of it.
You won't ever be bored with me, because I'm very talkative as well and answer nearly every time. Occasionally I am a little bit vicious. So it can happen, that one family member passing by is pinched in the heel by me. I don't want to talk about worse cases now. But at the same time I love my family more than everything. Even so much, that I accompany them on their way to shopping some steps and sadly stand still at the street corner.
One time I had to live with another person, because our house had to be built around. But I couldn't stand it and went back. Not everybody in this district loves me. A neighbour tom cat, who has lived here for a longer time and I don't like each other at all. So one of us can get a bloody nose for example. Therefore we get out of the way mostly. In comparison to this the cat a few houses further likes me very much. When I go on my trip on the evening at 21.40 o' clock I pick her up recently everytime. I believe I really feel fine.
&lt
previous issue
next issue
&gt
We would like to point out that we translated articles from German into English for the purpose of service. We would like to make it clear that the German translations are deciding, because the articles are directed to users who live in Germany.
Wir möchten darauf hinweisen, dass wir zu Servicezwecken englische Übersetzungen vorgenommen haben. Klarstellen möchten wir, dass maßgeblich die deutsche Übersetzung ist. Grund dessen ist, dass wir uns an in Deutschland ansässige Nutzer wenden.
The next issue 'Cats talk' will be published on October 1 2006.