I know a man who delivers papers in big West German city. He told me how he does his job in the early morning. I recorded his report which I pusblish here.
Nowadays one can get a vast amount of news via internet from servers from all over the world. The subscriber doesn't pick up his printed newspaper at the publishing house or at the newspaper kiosk. A newspaper deliverer throws the newspaper into the letterbox early in the morning. I am a paperman.
I use several aids to do my job: my bicycle, two panniers and a trailer. In one pannier is my little tool bag and my rainwear.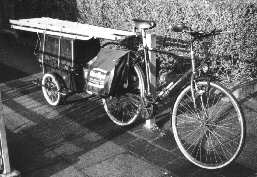 A bicycle with two panniers and a trailer
At half past three in the morning I arrive at a filling station, where I pick up my packages of newspapers. I take the packages to my bicycle. I cut the bands, which hold the papers together. I take off the polythene sheet, which shelters the papers from rain. Bands, polythene sheets and cover sheets are rubbish. I put my work gloves and most of the papers into the trailer. Then I shut the trailer.
Now I take a look at the cover sheet of the smallest package. On this cover sheet there is a list. All changes of the subscriptions are listed. I copy out those informations into my list of all subscribers. At last I put several issues of national newspapers into a pannier. Then I ride to the road, where I distribute the papers.