Klein-Mexiko Issue 5 (Special Edition) Out Now
When choosing products or services, please consider our advertisers.


A small medium, you call your own, is better than a big one, the others own.
Volksfoto, Photography Journal, Issue 2, Berlin 1977, Page 59
There is a new printed issue. It is issue # 5 and it has the additional designation 'Extra' (that means 'special edtion'). Already on the face of it, this issue is different from the previous Klein-Mexiko brochures. It is in A5. The reason therefor is that I print A4 sheets by means of my laser printer on one side. I fold those sheets in the middle and in that way that one can only see the imprinted side. Then I bind those folded sheets with a plastic spine. The publication is completely an own print. It is not avaialble in bookshops and from newsagents. For now the publishing house will not offer dispatch of the booklet.
The booklet title is 'People and Places in the Bremen Suburbs Tenever, Kattenturm, Oslebshausen, Horn and Klein Mexiko.'I compiled lightly revised reports about the situation in Bremen suburbs from the years 2002 - 2007 and new texts from the year 2010. Some details may now not exactly be the same as those I described a few years ago. Nevertheless, it appears to me that those texts and photographs have been meaningful up to now, because as far as the position of children and immigrants in those suburbs is concerned I haven't forgotten the genesis of those reports up to now. Those reports are likewise an attempt to compile five descriptions of urban places.
I turned my attention to those places for a lengthy period of time and from a perspective, which was sometimes not common.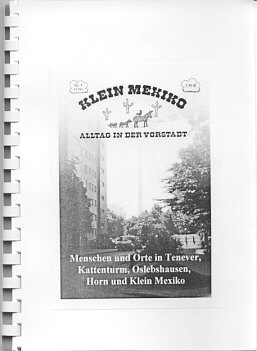 Klein-Mexiko issue # 5 (Special edition)
This perspective and the unagitated view of people and architecture perhaps enables one to realize that those neighborhoods are not pure deprived areas, not pure exclusive residential areas and not pure middle class suburbs.
First responses on Klein-Mexiko issue # 5
Please also read Charlie Dittmeier's
Cambodia's media.
The report is dated August 28 2001. The link leads to the latest entry of the diary. Please scroll down.
Next issue 'The Daily Groove'
on Sunday, October 31 2010
I am still being in frail health.
Please bear with me.


&lt
previous issue
next issue
&gt
We would like to point out that we translated articles from German into English for the purpose of service. We would like to make it clear that the German translations are deciding, because the articles are directed to users who live in Germany.
Wir möchten darauf hinweisen, dass wir zu Servicezwecken englische Übersetzungen vorgenommen haben. Klarstellen möchten wir, dass maßgeblich die deutsche Übersetzung ist. Grund dessen ist, dass wir uns an in Deutschland ansässige Nutzer wenden.
Please also read
Cats Talk (47)
place marker for advertisement


&nbsp