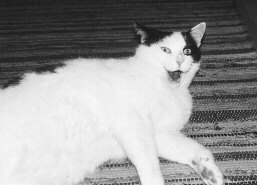 I'm laughing - in spite of everything.
Also the reindeer has fallen down his platform because of the wind, but in this case my master had a good look on it that I wouldn't play with it, too. Our two neighbour houses, which were only decorated a little go along with really well and even some houses further on the opposite there is a candle- lit rally in the window. That makes saying goodbye from here not easy in fact.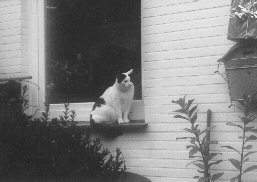 Where will we go?
Up to now it is not clear, where we move, but I do hope, that I find great gardens to stray. My master is afraid, I will always get lost and return back to here, but I won't do it. After all I need a home and a feeding bowl she can place in every kitchen.
&lt
previous issue
next issue
&gt
We would like to point out that we translated articles from German into English for the purpose of service. We would like to make it clear that the German translations are deciding, because the articles are directed to users who live in Germany.
Wir möchten darauf hinweisen, dass wir zu Servicezwecken englische Übersetzungen vorgenommen haben. Klarstellen möchten wir, dass maßgeblich die deutsche Übersetzung ist. Grund dessen ist, dass wir uns an in Deutschland ansässige Nutzer wenden.
The next issue 'Cats talk' will be published on April 1 2007.