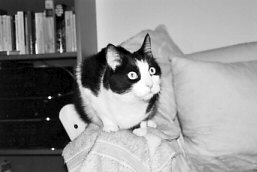 But he didn't order some further expensive examinations. He gave us a stripe with little tablets of which I have to take a half one every day.
Well I don't like it at all, when I get it stuffed into my mouth every day. Therefore my master desperately is thinking something up how to mix the tablets in a tasty tibit for me. First it was mixid in my dearly loved dry feed, but this I only eat when I like it and being not disturbed. Also the me offered "sausages" I don't eat on command. Up to now I at least was always willing, because I don't want to cause my master any worry.
My fellow sufferer Krautzi, who already has lived in this house for a long time, has taken these tablets for a year, too. Perhaps he is right, and I should think about my health, too.
&lt
previous issue
next issue
&gt
We would like to point out that we translated articles from German into English for the purpose of service. We would like to make it clear that the German translations are deciding, because the articles are directed to users who live in Germany.
Wir möchten darauf hinweisen, dass wir zu Servicezwecken englische Übersetzungen vorgenommen haben. Klarstellen möchten wir, dass maßgeblich die deutsche Übersetzung ist. Grund dessen ist, dass wir uns an in Deutschland ansässige Nutzer wenden.
The next issue 'Cats talk' will be published on October 3 2008
.