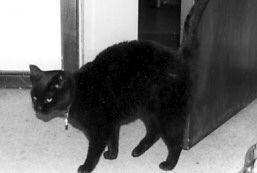 Krautzi
: 'What kind of interests are they?'
Kritzi
: 'That's none of Your business!'
Krautzi
: 'My life hasn't changed very much in comparison to earlier times , with the exeption that I have to eat such a powder over my feed in the evening.'
Kritzi
: 'Do You know what it is good for? - I don't need it.'
Krautzi
: 'No, I only guess it. Since I have taken it, I havn't been out of breath so quickly. Also it is quite nice when I eat, because I am stroked by mum then.'
Kritzi
: 'In return I have found a best friend yet, who I didn't have in younger years That seems to depend on my mature personality.'
Krautzi
: 'Well, I believe You are not as cheeky as in former times but in return You are jealous, when I once talk to your best friend.'
Kritzi
: 'Now my time is over, I have to do something important.'
&lt
previous issue
next issue
&gt
We would like to point out that we translated articles from German into English for the purpose of service. We would like to make it clear that the German translations are deciding, because the articles are directed to users who live in Germany.
Wir möchten darauf hinweisen, dass wir zu Servicezwecken englische Übersetzungen vorgenommen haben. Klarstellen möchten wir, dass maßgeblich die deutsche Übersetzung ist. Grund dessen ist, dass wir uns an in Deutschland ansässige Nutzer wenden.
The next issue 'Cats talk' will be published on January 14 2009, because the programmer is sick.