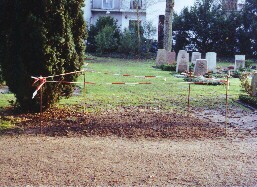 The sermon didn't almost contain any details of Mr.K's life and personality. The clergyman strung together general symbolic statements about human life and death. I only remember a sentence about Mr. K's longstanding factory work. Towards the end of the funeral service the mourners were once asked to do something. The clergyman requested them to stand up and to say the Lord's prayer. Finally he invited the mourners to lunch in a restaurant on behalf of the family. Then the meeting came to an end. At the door of the hall the permanently smiling gentleman turned up again.
When I left the house, I saw the clergyman standing in the corridor. He stood there a little bit like our previous country vicar when he friendly said goodbye to the members of his congregation at the door of the church. But this clergyman was looking like an insecure man. He was giving the impression of being forlorn and under a lot of pressure.
At the door of the funeral home I had a few words with the doctor about Mr. K. A neighbour of Mr. K offered me to give me a lift. But I was glad that I could go to the parking place behind the house and get on my bicycle.
Behind the house stood a van of the nearby cemetery. A young woman, who wore work clothes, was leaning on the tailgate of the van. She was looking at the rear entrance of the funeral home.
(My wife Christine helped me to translate the text. Thanks.)
Please also read:
Finds (6)
about scrapped tombstones
Charlie Dittmeier's articles about a
chinese funeral
, diary entry of October 11 and 12 2005. The link leads to the latest entry of the diary. Please scroll down.
Next issue 'The Daily Groove'
on Thursday, February 1 2007
because of technical changeover.
I do apologize.I'm going to compensate you for the waiting period by a double issue.
&lt
previous issue
next issue
&gt
We would like to point out that we translated articles from German into English for the purpose of service. We would like to make it clear that the German translations are deciding, because the articles are directed to users who live in Germany.
Wir möchten darauf hinweisen, dass wir zu Servicezwecken englische Übersetzungen vorgenommen haben. Klarstellen möchten wir, dass maßgeblich die deutsche Übersetzung ist. Grund dessen ist, dass wir uns an in Deutschland ansässige Nutzer wenden.
Please also read
Cats Talk (33)