It's more difficult to think of unnamed persons than of famous persons.
Walter Benjamin
A few weeks ago I visited a small town in Northern Germany. On the way to my hosts I passed through the area around the station. The small road run along the sidings. At this road there was the backyard of a stonemasonry company.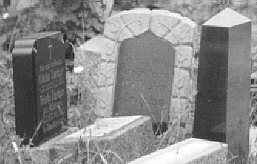 A number of tombstones were old and they had epigraphs.
On the backyard there were a lot of tombstones next to each other. I was not allowed to enter the backyard. But from my position on the pavement I could make out that a number of tombstones were old. They had epigraphs.
Weeds grew rampant between the tombstones. Debris, old boards, an used tyre and rubbish lay around. Big stones, which were not hewed, were piled up.