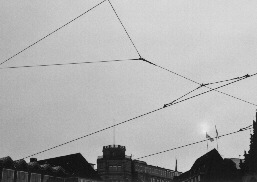 A look at the global sky from a central place in Bremen
Low easy chairs and low tables stood at the walls and at the windows. There was a lot of space in the middle of the room. The room looked a little bit like a well-tidied up living room in a flat-sharing community in the seventies. I recollected that this room had seated much more persons in the time when the previous tenant had operated a good plain café in this rooms. From my seat at the window I could see the street. After a while I saw that a security van drove up to the entrance of the restaurant. The employees of the security service entered the restaurant and picked up something (it was probably a lot of money).
At that moment I noticed, that there was a branch of an other internationally working restaurant chain, which I didn't notice before. This restaurant chain, according to its statement, operates 28 703 restaurants in 86 countries. Just in Bremen it operates 11 restaurants. The restaurant chain, I mainly reported about in this article, at present operates more than 14 400 branches in North America, Latin America, Middle East and in the Asia-Pacific Rim.
(My wife Christine helped me to translate the text. Thanks.)
Please also have a look at:
Farewell (1)
Did you like it?
Please also read Charlie Dittmeier's diary entries of
January 9 2003
and
September 17 2007
about the fact that chain restaurants are on the advance in Cambodia. The links lead to the latest entry of the diary. Please scroll down if necessary.
The international poster organisation Loesje has started a
project
to train young people from all over Europe and Asia in how to organise and coordinate information campaigns about the Millennium Development Goals. These goals are set by the United Nations to fight poverty and to improve living standards world wide.
Next issue 'The Daily Groove'
on Thursday, January 31 2008


&lt
previous issue
next issue
&gt
We would like to point out that we translated articles from German into English for the purpose of service. We would like to make it clear that the German translations are deciding, because the articles are directed to users who live in Germany.
Wir möchten darauf hinweisen, dass wir zu Servicezwecken englische Übersetzungen vorgenommen haben. Klarstellen möchten wir, dass maßgeblich die deutsche Übersetzung ist. Grund dessen ist, dass wir uns an in Deutschland ansässige Nutzer wenden.
Please also read
Cats Talk (37)