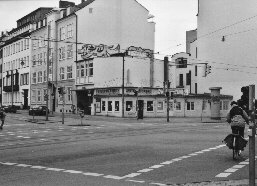 An extensive low building at the crossing of Altenwall and Ostertor Road
When I took a closer look at the company nameplate, I saw that it was a big sheet metal which stood on the roof of the building.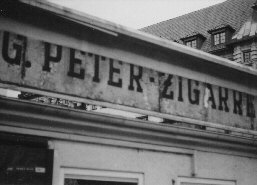 I could look through a narrow slot below the nameplate.
I could look through a narrow slot below the nameplate and could see a building across the street. The nameplate visually acted as 'a hat on the head' of the building. The building looked taller.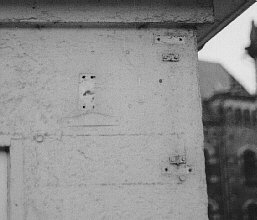 The wall with recent and old drill holes and small bulges of white colour.
The nameplate had been perforated at many points across the years. One had fixed something onto it. The wall was also dotted with recent and old drill holes. I also saw small bulges of white colour. They revealed the contours of plates which had been removed long ago. Those bulges of colour had just been painted over later on. There were also rusty little sheets which had been on the wall for a long time and which had had no practical value any more for a lot of years.
All in all, the building seemed to me a relic of an era, when people were obviously happy, that economic activity happened at all. An immaculate streamlined storefront seemed to be not very important in those times.
(My wife Christine helped me to translate the text. Thanks.)
Please also read
Cuts (6)
Please also read Charlie Dittmeier's diary entry of
January 28 2008
about the 'shophouses' in Phnom Penh. The link leads to the latest entry of the diary. Please scroll down if necessary.
The international poster organisation Loesje has started a
project
to train young people from all over Europe and Asia in how to organise and coordinate information campaigns about the Millennium Development Goals. These goals are set by the United Nations to fight poverty and to improve living standards world wide.
Next issue 'The Daily Groove'
on Thursday, February 14 2008


&lt
previous issue
next issue
&gt
We would like to point out that we translated articles from German into English for the purpose of service. We would like to make it clear that the German translations are deciding, because the articles are directed to users who live in Germany.
Wir möchten darauf hinweisen, dass wir zu Servicezwecken englische Übersetzungen vorgenommen haben. Klarstellen möchten wir, dass maßgeblich die deutsche Übersetzung ist. Grund dessen ist, dass wir uns an in Deutschland ansässige Nutzer wenden.
Please also read
Cats Talk (37)