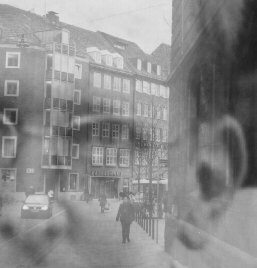 Photomontage 'head and street'
I entered a bookshop. The characters of the titles appeared to me as good friends, but the brightly coulored dust jackets of the children's books tormented my eyes.
After I had taken the plugs out of my ears, I again heard the constant hissing of traffic, engine noises of cars and busses, rattling bicycles, individual human voices, babble, ringing of bells and announcements over the public address.
(My wife Christine helped me to translate the text. Thanks.)
Maryknoll Cambodia and the Finnish Association of the Deaf jointly sponsor one of the projects of the Deaf Development Programme. This project promotes skills development and includes basic education, job training, and sign language interpreting. Every year DDP meets with an FAD Project Coordinator from Finland to discuss the progress of the project. Please read Charlie Dittmeier's
reports
about this meetings.
The international poster organisation Loesje has started a
project
to train young people from all over Europe and Asia in how to organise and coordinate information campaigns about the Millennium Development Goals. These goals are set by the United Nations to fight poverty and to improve living standards world wide.
Next issue 'The Daily Groove'
on Saturday, March 29 2008


&lt
previous issue
next issue
&gt
We would like to point out that we translated articles from German into English for the purpose of service. We would like to make it clear that the German translations are deciding, because the articles are directed to users who live in Germany.
Wir möchten darauf hinweisen, dass wir zu Servicezwecken englische Übersetzungen vorgenommen haben. Klarstellen möchten wir, dass maßgeblich die deutsche Übersetzung ist. Grund dessen ist, dass wir uns an in Deutschland ansässige Nutzer wenden.
Please also read
Cats Talk (37)