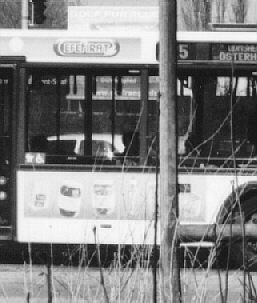 Advertising for Turkish food
In front of the kiosks there are some tallish showcases. The companies, which donate prizes to the lottery, display their products in those showcases. I saw that the firm, which sells the Turkish food, was also one of the donators.
(My wife Christine helped me to translate the text. Thanks.)
Please also read:
Signs of upheaval (2)
Places (13)
about Russian and Polish shops in Bremen
Most of Cambodia cooks with wood, burning small pieces of charcoal in large pottery burners, which, even in the city, at meal times are set outside many of the homes or under a small shed roof in the back. Please read Charlie Dittmeier's diary entry of
October 27 2002
The link leads to the latest entry of the diary. Please scroll down.
Next issue 'The Daily Groove'
on Thursday, May 3 2007
I am preparing an extensive report, which I am going to publish in May. I do apologize the delay.
&lt
previous issue
next issue
&gt
We would like to point out that we translated articles from German into English for the purpose of service. We would like to make it clear that the German translations are deciding, because the articles are directed to users who live in Germany.
Wir möchten darauf hinweisen, dass wir zu Servicezwecken englische Übersetzungen vorgenommen haben. Klarstellen möchten wir, dass maßgeblich die deutsche Übersetzung ist. Grund dessen ist, dass wir uns an in Deutschland ansässige Nutzer wenden.
Please also read
Cats Talk (34)