'Our prettiest in OTe'
Slogan of GEWOBA
A few days ago the first wave of a publicity campaign inundated the hoardings of Bremen. The posters of that first wave were designed in very special way. People, who took a look at those posters, wondered which product the posters were promoting.
None of the posters apparently promoted a product, a service or a brand. One poster for example was only a big black area. Only at the top of the poster was written in caps DON'T BITCH ABOUT. Below that line were written the letters OTe and a big exclamation mark in different colours.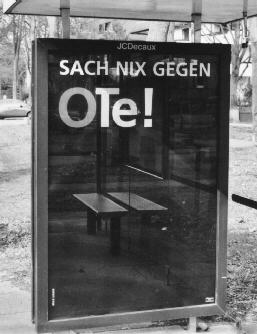 A puzzling poster of the first wave
That was puzzling. What was OTe? Why were people not allowed to talk bad about OTe? Why was the text written in a slang expression and not in standard German? So the posters aroused people's curiosity about that supposed product or supposed brand called OTe.
An other poster, which was published a few days later, replied to those questions. That orange poster contained a lot of text which was almost only written in black uppercase letters.The text read:
THE NEW OSTERHOLZ-TENEVER IS BETTER THAN IT'S REPUTATION. WHAT HAPPEND? GEWOBA UNCOMPROMISINGLY REDEVELOPED THE BULK OF IT'S BUILDINGS OR PULLED THEM DOWN IF NECESSARY. THIS WAY A NEW TENEVER WITH A COMPLETELY NEW QUALITY OF LIVING CONDITIONS HAS BEEN CREATED.
IN BRIEF OTE
OTE HAS GOT BRIGHTER, GREENER, MORE BEAUTIFUL AND MODERN. WE'LL SEE TO IT THAT IT IN FUTURE DEVELOPS THIS WAY.