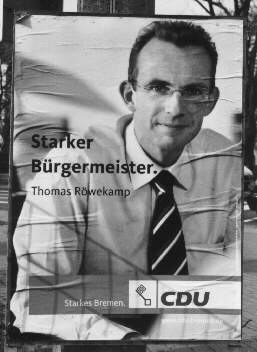 It furthermore only informs them of the place, the time, the date and the participants of an election rally. It doesn't inform of the subject of the election rally.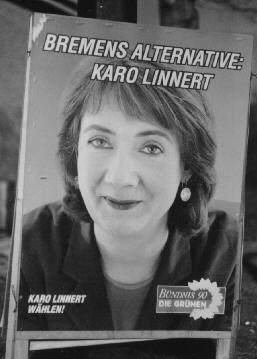 At present there are only three small opposition parties at the state parliament. On the poster of an oppostion party is the large-format portray of the head of a leading candidate. At the top of the poster is the writing 'The alternative for Bremen: Karo XYZ'. This writing is noteworthy for two points of view. Firstly the leading candidate is called by her pet name 'Karo'. Her name in full is 'Karoline'. Secondly a single person is offered some hundred thousand voters, who altogether also have a lot of intelligence, as an alternative to the ruling grand coalition.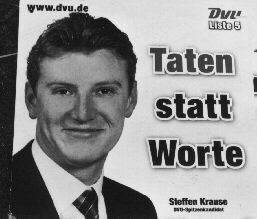 A poster of an other opposition party shows the portray of a quite young man. He is very proudly smiling at the public and seems to have no self-doubt. His broad smile is almost a grin. His pride is almost impudence. The motto of the poster suits to the face 'Action instead of talk'.
(My wife Christine helped me to translate the text. Thanks.)
Please also read:
Slogans (16)
Slogans (17)
Slogans (27)
Slogans (28)
Writing for the web (17)
Writing for the web (19)
Writing for the web (25)
Please also read Charlie Dittmeier's reports on the Commune Council Elections in Cambodia in 2007. His first report is dated
March 31 2007
. The further reports are dated April 1 and April 4 2007. The link leads to the latest entry of the diary. Please scroll down.
Next issue 'The Daily Groove'
on Thursday, May 17 2007

&lt
previous issue
next issue
&gt
We would like to point out that we translated articles from German into English for the purpose of service. We would like to make it clear that the German translations are deciding, because the articles are directed to users who live in Germany.
Wir möchten darauf hinweisen, dass wir zu Servicezwecken englische Übersetzungen vorgenommen haben. Klarstellen möchten wir, dass maßgeblich die deutsche Übersetzung ist. Grund dessen ist, dass wir uns an in Deutschland ansässige Nutzer wenden.
Please also read
Cats Talk (34)