In front of the former main post office in the city center a big grey box has been installed beside a row of simple pay phones for a lot of months. The box has a receiver, a coin slot, a change slot just just like a normal pay phone, but there is additionally a big computer screen with a camera above it.

The content of the screen can be changed by touching different menu buttons. At the upper right hand corner of the screen is a small menu by means of which you can choose whether you want to use the box as a telephone or a SMS sender or an e-mail sender or an access to the internet. On the start screen a quite big window is to be seen which offers a choice between normal telephone and visual phone.

At the right of the start screen there is a menu by means of which you can call up information about different subjects. You can choose between the subjects News & Weather, Bremen, Traffic Information & Travel, Community, Fun & Entertainment, Online Shopping and Phone Books & Directories. When you click on one of those subject buttons, small windows with special information offers will appear at the left side of the screen. But you won't be able to open most of those windows, if you don't insert a coin. For information about the subject Bremen you can at least call up the website www.bremen.de and a digital street map of Bremen free of charge.

When you call up that website or other detailed menus, an other menu at the bottom of the screen may be helpful for you. By means of that menu you can call up an on-screen keyboard and information about tariffs and help and you can choose the commands start & leave, up, down and back.

I tried out the visual phone. From a list, you can choose among pay phones, which also have a screen and a camera, in different cities. When you dial such a pay phone, a window opens, in which you can only see a shooting of your own face which the local camera takes.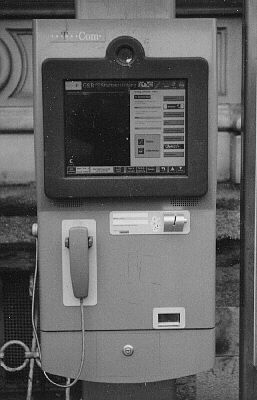 Pay visual phone
If a person picks up at the called remote station, you will see the face of your dialog partner in a separate window. I dialed a pay phone in my native town. By chance passer-by really picked up and so two absolutely strange faces speachlessly looked at each other.
(My wife Christine helped me to translate the text. Thanks.)
Please also read
Signs of Upheaval 1
Please also read Charlie Dittmeier's diary entry of
February 28 2006
about the telephone and power lines in Phnom Penh. The link leads to the latest entry of the diary. Please scroll down if necessary.
The international poster organisation Loesje has started a
project
to train young people from all over Europe and Asia in how to organise and coordinate information campaigns about the Millennium Development Goals. These goals are set by the United Nations to fight poverty and to improve living standards world wide.
Next issue 'The Daily Groove'
on Sunday, June 1 2008


&lt
previous issue
next issue
&gt
We would like to point out that we translated articles from German into English for the purpose of service. We would like to make it clear that the German translations are deciding, because the articles are directed to users who live in Germany.
Wir möchten darauf hinweisen, dass wir zu Servicezwecken englische Übersetzungen vorgenommen haben. Klarstellen möchten wir, dass maßgeblich die deutsche Übersetzung ist. Grund dessen ist, dass wir uns an in Deutschland ansässige Nutzer wenden.
Please also read
Cats Talk (38)
place marker for advertisement


&nbsp