Many tears were shed at the factory gate/ For almost all employees of the Nokia factory in Bochum yesterday was their last working day
Headline from 'Weser-Kurier', (Bremen, Germany), May 17 2008
A few weeks ago just after a trash collection date I found an a bit filthy advertising brochure on the pavement in front of a block of flats, where not only people live, who are in the midst of our society. I took the brochure with me and scrutinized it at home.
The English words 'SOUL MATES' were emblazoned on the cover of the brochure. Below those words was a picture of four stylishly dressed, smiling, good looking, young women, who were playing 'four friends'. Below the picture one saw the logo of a mobile phone manufacturer in quite small print.
On the inside front cover the four young women were introduced as Carla, 33 year-old, a grafic designer and fledgling gallery owner, Mona, 35 year-old, features editor, Charlotte, 23 year-old, grafic design student and hobby disc jockey, and Helen, 33 year-old, employed architect.
On the next eleven pages of the brochure a story was told in the style of a photo novel. The story began at 4:00 pm on the day, when Carla's gallery was to be opened. A big photo showed Carla at work in her gallery. In a small picture one saw a mobile phone, a tape measure and a spirit level. The display of the mobile phone said 'the signpost has to be collected and to be fixed'.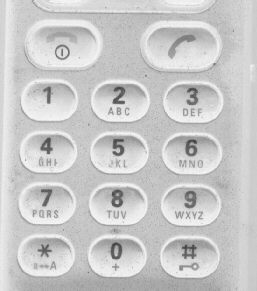 keyboard of my mobile phone (negative picture)
The next picture was dated 4:45 pm and showed Charlotte, a friend of Carla, in her flat. She picked out music, which she wanted to put on at the opening of the gallery. A small photo recorded the moment, when Charlotte was fixing a small exchangeable coloured frame to her mobile phone which matched her dress.
A photo followed, in which one saw Mona, the editor, who was on her way to the opening of the gallery at 4:50 pm. On that way she looked into a few fashion shops. A small photo showed Mona when she was putting her mobile phone, her notebook and the invitation card in her bag.
The next two pages recorded an incident at 5:02 pm. Carla dropped the fragile sign, which was designed to direct the guests to the gallery which was in a factory building. The sign shattered. Carla called Helen by mobile phone in order to get help, but Helen wasn't able to come immediately, because she was being under great pressure in the office.