You have always to try and see it from the standpoint of the person, who left the traces.
W. Ebeling, H. Engelbrecht: How to fight one's way through
It's already a ritual: In the early morning of the New Year's day I go out into the way. And I am always amazed at the chaos, which I find.
There are hundreds of colored scraps, burst little rolls made of cardboard, thin strips of wood with a little roll at the top, bottles with residues of smoke and powder and many other things.
People fêted New Year's Eve party. Toward midnight more and more people went out into the way. Many children ran around, shouted for joy and cried. The adults drank vine, beer and spirits. They talked to each other in a loud voice. They detonate fireworks.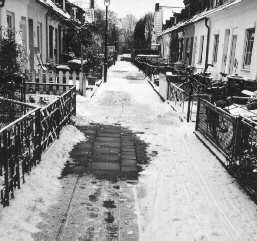 But most of the people only swept the narrow area between their fence and the middle of the way.
After midnight you heard wishes for the new year. Rockets flew around in the sky. The neighbours clinked their glasses.