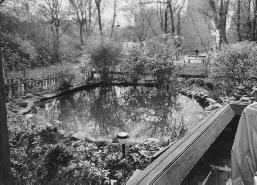 On the top of the hillock in front of residential buildings was located an artificially laid out fishpond.
A little decoration sometimes embelishes a front entrance which was dreary before.
Not far from that flower garden I found an embelished front door of a block. A glass door pane was decorated with window films. The subjects of the window films were flowers. That was a cheerful welcome to all occupants and guests.
(My wife Christine helped me to translate the text. Thanks.)
Places (14)
Little artworks on green verges
Please also read Charlie Dittmeier's diary entry of
November 25 2005
about the quality of life of Phnom Penh .The link leads to the latest entry of the diary. Please scroll down.
Please also take a look at the information of the international poster organisation Loesje. Loesje has started a
project
to train young people from all over Europe and Asia in how to organise and coordinate information campaigns about the Millennium Development Goals. These goals are set by the United Nations to fight poverty and to improve living standards world wide.
Next issue 'The Daily Groove'
on Thursday, July 20 2007.
I have to recover from my health problems. I do apologize.
&lt
previous issue
next issue
&gt
We would like to point out that we translated articles from German into English for the purpose of service. We would like to make it clear that the German translations are deciding, because the articles are directed to users who live in Germany.
Wir möchten darauf hinweisen, dass wir zu Servicezwecken englische Übersetzungen vorgenommen haben. Klarstellen möchten wir, dass maßgeblich die deutsche Übersetzung ist. Grund dessen ist, dass wir uns an in Deutschland ansässige Nutzer wenden.
Please also read
Cats Talk (34)