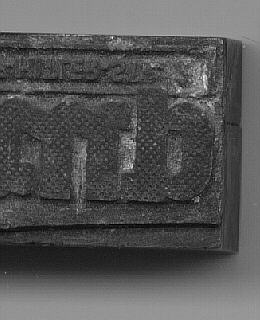 Detail of a printing plate of an advertisement I found among my father's estate
I remember that my father showed this exercise book to me a long time ago and said 'I wanted to become a journalist, but I had no chance, because my parents were poor people. But that doesn't mean that I want you to become a journalist.'
After his training my father was an employee in a draper's shop in the near-by district town for decades. I found a small printing plate from the days of hot-metal setting among his estate. The plate was designed to print a small advertisement of the draper's shop in the newspaper of the district town. Because of the contemporary technical possibilities I have a small website where I can publish my texts and advertisements of various companies.
(My wife Christine helped me to translate the text. Thanks.)
Please also read
Writing for the web (21)
Please also read Charlie Dittmeier's
items
about the reappraisal of the Khmer Rouge period in Cambodia.
The international poster organisation Loesje has started a
project
to train young people from all over Europe and Asia in how to organise and coordinate information campaigns about the Millennium Development Goals. These goals are set by the United Nations to fight poverty and to improve living standards world wide.
Next issue 'The Daily Groove'
on Thursday, June 26 2008


&lt
previous issue
next issue
&gt
We would like to point out that we translated articles from German into English for the purpose of service. We would like to make it clear that the German translations are deciding, because the articles are directed to users who live in Germany.
Wir möchten darauf hinweisen, dass wir zu Servicezwecken englische Übersetzungen vorgenommen haben. Klarstellen möchten wir, dass maßgeblich die deutsche Übersetzung ist. Grund dessen ist, dass wir uns an in Deutschland ansässige Nutzer wenden.
Please also read
Cats Talk (38)