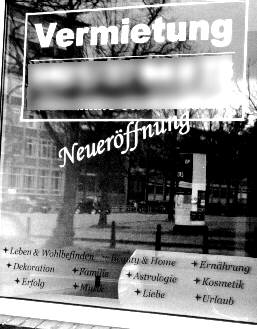 Vermietung = rental; Neueröffnung = opening; Leben & Wohlbefinden = life & well-being; beauty & home = beauty & home; Ernährung = diet; Dekoration = decoration; Familie = family; Astrologie = astrology; Kosmetik = beauty treatment; Erfolg = success; Musik = music; Liebe = love; Urlaub = holidays
In an advertising leaflet she writes about the therapeutic effects of African dancing: 'Natural vitality will be perceptible again, tenseness and blockades may be solved and one breathes free again.'
In the road, where I distribute the newspaper in the morning, practices mushroom up. Would you like to learn an example? Recently I saw a little nameplate of white paper on a letterbox. I read a green writing: 'Practice of integral personality development'
At the road's end there is a bell and a simple namesplate with the writing 'Dr.' and a common name beside a door already for a long time. It aroused my curiosity. I phoned the doctor. A friendly unassuming woman's voice answered. The woman is a medical specialist of psychotherapy.
We talked to each other about the present glut of therapists. She called my attention to an important detail. Most of the non-medical therapists don't have contracts with health insurance schemes. The clients of those therapists have to pay for the therapy out of their own pocket.
After that conversation I started to look for informations about the new sideline of my old friend. After googleling a while I found the
website
of the U. S. Kinesiology Training Institute
(will be continued)
also see
Finds 12
Next issue 'The Daily Groove':
Thursday, June 2 2005
&lt
previous article
next article
>
We would like to point out that we translated articles from German into English for the purpose of service. We would like to make it clear that the German translations are deciding, because the articles are directed to users who live in Germany.
Wir möchten darauf hinweisen, dass wir zu Servicezwecken englische Übersetzungen vorgenommen haben. Klarstellen möchten wir, dass maßgeblich die deutsche Übersetzung ist. Grund dessen ist, dass wir uns an in Deutschland ansässige Nutzer wenden.