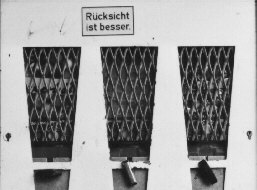 A vending machines for chewing gums was protected with a robust grille
I found that another vending machine,the picture of which I had taken a few months ago, was protected with a robust grille. You could hardly make out the content of the receptacles.
The same vending machine - a year ago
The comical advertising labels and the wide-meshed screen. weren't there no more. The appearance was dominated by protection against theft.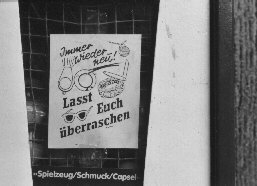 Advertising label on the receptacle of the same vending machine - a year ago
On the cabinet was a simple sticker with the writing 'You better be considerate'
(My wife Christine helped me to translate the text. Thanks.)
(to be continued)
Please see also:
Machines (2)
Please also read about the little fun, street kids in Cambodia enjoy, on 'Daily life in Cambodia 2005', entry
March 4 2005
. The link leads to the latest entry of the diary. Please scroll down.
Next issue 'The Daily Groove'
because of technical change over
on Saturday, November 4 2006

&lt
previous issue
next issue
&gt
We would like to point out that we translated articles from German into English for the purpose of service. We would like to make it clear that the German translations are deciding, because the articles are directed to users who live in Germany.
Wir möchten darauf hinweisen, dass wir zu Servicezwecken englische Übersetzungen vorgenommen haben. Klarstellen möchten wir, dass maßgeblich die deutsche Übersetzung ist. Grund dessen ist, dass wir uns an in Deutschland ansässige Nutzer wenden.
Please also read
Cats Talk (32)