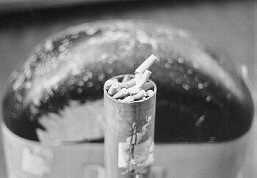 Filters of cigarettes in a steel tube behind a garbage can
This feeling is fleeting. Equally people part with the leftovers of the agent which has caused the pleasent feeling. They throw it away on the spot or stuff it somewhere, for example into the steel tube behind the garbage can.
I am an expert on the subject I am just writing about. I had been smoking for a lot of years when I was already an adult.
(My wife Christine helped me to translate the text. Thanks.)
(to be continued)
Please see also:
Pictures of
meeting places
of drug addicts
One of the customs in Cambodia is to throw all trash on the floor of restaurants. Please have a look at 'Daily life in Cambodia 2002', entry
November 3 2002
. The link leads to the latest entry of the diary. Please scroll down.
Next issue 'The Daily Groove'
Thursday, October 19 2006

&lt
previous issue
next issue
&gt
We would like to point out that we translated articles from German into English for the purpose of service. We would like to make it clear that the German translations are deciding, because the articles are directed to users who live in Germany.
Wir möchten darauf hinweisen, dass wir zu Servicezwecken englische Übersetzungen vorgenommen haben. Klarstellen möchten wir, dass maßgeblich die deutsche Übersetzung ist. Grund dessen ist, dass wir uns an in Deutschland ansässige Nutzer wenden.
Please also read
Cats Talk (32)