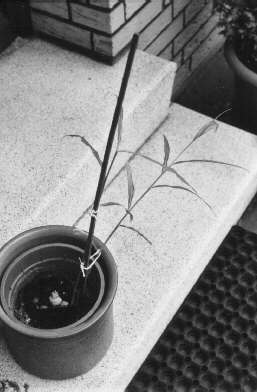 This year in spring two shoots came out of the soil.
After that mishap I erected the shoot again and tied it to a stick. The shoot hasn't been growing since that day, but it also hasn't been perishing. Even another shoot has fortunately been growing.
(My wife Christine helped me to translate the text. Thanks.)
(to be continued)
Slowly going 2
(about our ginger/ in English)
Slowly going 4
(about our ginger/ in English)
Slowly going 1
(in German)
Slowly going 3
(in English)
Please also read about the plants, which grow in Phnom Penh, on 'Daily life in Cambodia 2005', entries on
February 2, March 17 and March 27 2005
. The link leads to the latest entry of the diary. Please scroll down.
Next issue 'The Daily Groove'
on Monday, November 20 2006

&lt
previous issue
next issue
&gt
We would like to point out that we translated articles from German into English for the purpose of service. We would like to make it clear that the German translations are deciding, because the articles are directed to users who live in Germany.
Wir möchten darauf hinweisen, dass wir zu Servicezwecken englische Übersetzungen vorgenommen haben. Klarstellen möchten wir, dass maßgeblich die deutsche Übersetzung ist. Grund dessen ist, dass wir uns an in Deutschland ansässige Nutzer wenden.
Please also read
Cats Talk (32)