The story goes that while Diogenes was relaxing in the sunlight one morning, Alexander (the Great), thrilled to meet the famous philosopher, asked if there was any favour he might do for him. Diogenes replied, 'Stand out of my sunlight.'
A legend about Diogenes of Sinope who was supposed to live in a barrel.
From
Wikipedia
Diogenes Laërtius, vi. 38
Cicero, Tusculanae Quaestiones, 5.32.
On two rainy afternoons in November I visited the quarter around the St Stephen's church. My first destination was the church which is located on a little hill. I first perused the bulletin board at an entrance of the church.
I noticed the announcement of an 'after-work' event which was going to start on December 7 2007 at 4:00 pm. The program of the event comprised 'a concert and Advent reflections'. The event was designed to get the visitors into the right mood for a stroll through the Christmas market.
And then I noticed that many collections of the church services in December were destined for social organizations outside the parish. Three offertories were destined for the third world aid program of the German Lutheran church, one each for social welfare of prisoners in Bremen, Amnesty International, aids help and support for conscientious objectors.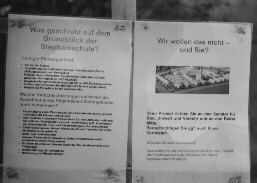 A little poster in a front garden
After I had went down to the quarter again, I noticed a little poster in a front garden. The poster had been fastened onto a narrow lath. The poster informed the passerbies that the opposing unoccupied school building would soon be demolished and replaced by a quite tall office block with an underground car park.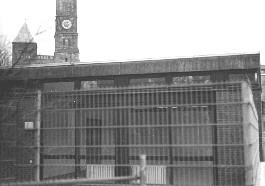 A view of the unoccupied school building
I learned from the poster that the inhabitants of the quarter were afraid of adverse effects in the wake of the new building. They feared that traffic, traffic noise, parking problems and the risks of accidents for children would increase. (In the immediate vicinity of the quarter is a railway line, a tram route, a dual carriageway and an inner city feeder road.) But the inhabitants also fear that they would suffer materal losses. The value of the houses or the rental income might decrease. The construction of an underground car park might cause a decrease of water table height and damages to the houses.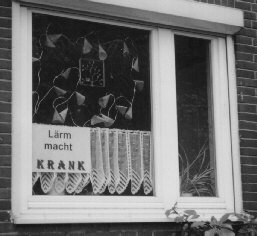 On that poster in a window there was only written 'Noise makes you ill.'
To get in touch with the writers of the poster, one had to pop a slip of paper containing one's telephone number or email address into a letterbox of the neighbouring houses. A telephone number of the writers wasn't given.