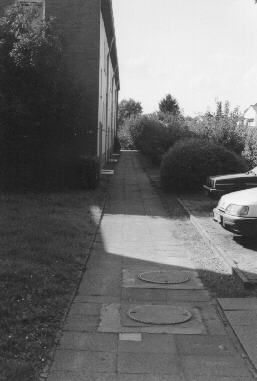 A small path in Detlef's neighbourhood
I went to the back of a block. There was a playground in the middle of a small park. A slide, a pull-up bar and a climbing net were connected with nice little turrets and pillars. But there was not a living soul. I turned round and saw a sign on the outside wall. It read there in German and Turkish that it was forbidden to play soccer.
I met a young woman. She was wearing glasses and a necklace with a ying-yang pendant. She pointed at a window and told me 'I have decorated my windows with window films. I keep pets, dwarf rabbits. My four children have been removed from my custody by the youth welfare office because I wasn't getting on with my partner. I am allowed to visit only the three eldest children but not the youngest child. I am on good terms with the foster families. that the social welfare office will provide me with a one-euro-per-hour job in a second-hand shop in the suburb.' If I had continued to question her about her life, she would have told me more and more details. But I didn't question her any more and so she was looking at me a little bit sadly and finally she went into the house.
An about thirty-year old man came to the playground with a crowd of children. The children sat down at a table next to the playground. The man also willingly recounted me about his life. He seemed to be quite sensible and quiet. He was working as warehouseman and had a poorly paid short term employment. That was the reason why it was important for him that the rent including heating, which he had to pay, was only about 220 Euros. He pointed at several windows. 'Over there lives a Russian. He is in work and keeps his flat clean.' The Russian neighbour is standing at the French window and is cleaning the doorframe with a vacuum cleaner. Then he pointed at a window with yellowed curtains. 'That guy lets his flat go to rack and ruin. The air is thick with smell in front of some flat doors.' Then he pointed at the sweeping branches of the trees. 'The trees should be pruned. It's bad for the trees and the flats are quite darkish. But I like living here. It's quiet and the rent is low.' He went back to the children.
When I returned to the street in front of the blocks, I ran into Detlef. He was talking insistently to a young woman. When he saw me, he immediatelly started to talk to me 'You can't imagine, what this neighbourhood had looked like, before I started to clean up the green. Isn't that right?' He adressed the young woman. She quickly admitted that he was correct.
I looked across the street. Two women were getting out of a Mercedes. They wore scarfs and long coats. One of them had driven the car. They entered a block. The balconies of this block looked quite inviting. (My wife Christine helped me to translate the text. Thanks.)
Please also read
Encounters 6
Encounters 7
Revisited Places 19
Places 10
Places 15
Places 20
Farewell 2
Please also read Charlie Dittmeier's diary entry of
September 9 2002
about the AIDS orphan project 'Little Folks' in Cambodia.The link leads to the latest entry of the diary. Please scroll down.
The international poster organisation Loesje has started a
project
to train young people from all over Europe and Asia in how to organise and coordinate information campaigns about the Millennium Development Goals. These goals are set by the United Nations to fight poverty and to improve living standards world wide.
Next issue 'The Daily Groove'
on Thursday, October 4 2007.


&lt
previous issue
next issue
&gt
We would like to point out that we translated articles from German into English for the purpose of service. We would like to make it clear that the German translations are deciding, because the articles are directed to users who live in Germany.
Wir möchten darauf hinweisen, dass wir zu Servicezwecken englische Übersetzungen vorgenommen haben. Klarstellen möchten wir, dass maßgeblich die deutsche Übersetzung ist. Grund dessen ist, dass wir uns an in Deutschland ansässige Nutzer wenden.
Please also read
Cats Talk (36)