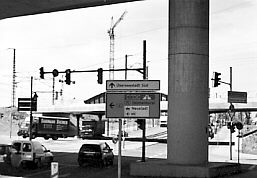 . In order to get to the old store house, I first had to pass through an inhospitable traffic junction right next to the the quarter around the St Stephen's church.
A young woman, who worked in a photographic studio, was happy that she at last had the opportunity to work in not cramped conditions. Many people complained about the fact that there had until recently been no good value café and a quite normal baker's shop.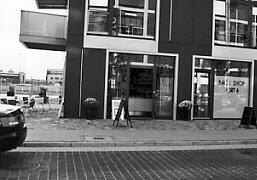 There is now eventually a good value café and a quite normal baker's shop near to the Speicher 1.
But there were several shops in the area where one could buy clothes, items of furniture and fitments which were partly very expensive. For example, one could buy a refrigerator for 2000 Euros and a crystal chandelier, made of Murano glass, for 3000 Euros.A gallery exibited works of a famous Bremen photographer which revolved around subjects as 'prominent figures' and 'fame'. I didn't almost see any occasional customers in almost all shops.
I decided to revisit this place some days later and to take a closer look at all things.
(My wife Christine helped me to translate the text. Thanks.)
Please also read
Little Texas
English summary
Finds 21
Places 15
Revisited Places 20
Please also read Charlie Dittmeier's
excerpt
from an article in The Cambodia Daily about Cambodia's Garment Industry. The excerpt is dated September 1 2001. The link leads to the latest entry of the diary. Please scroll down if necessary.
The international poster organisation Loesje has started a
project
to train young people from all over Europe and Asia in how to organise and coordinate information campaigns about the Millennium Development Goals. These goals are set by the United Nations to fight poverty and to improve living standards world wide.
Next issue 'The Daily Groove'
on Sunday, August 17 2008


&lt
previous issue
next issue
&gt
We would like to point out that we translated articles from German into English for the purpose of service. We would like to make it clear that the German translations are deciding, because the articles are directed to users who live in Germany.
Wir möchten darauf hinweisen, dass wir zu Servicezwecken englische Übersetzungen vorgenommen haben. Klarstellen möchten wir, dass maßgeblich die deutsche Übersetzung ist. Grund dessen ist, dass wir uns an in Deutschland ansässige Nutzer wenden.
Please also read
Cats Talk (39)