When choosing products or services, please consider our advertisers.


But where there is danger,
A rescuing element grows as well.
From 'Patmos', by Friedrich Hölderlin
(Translation by James Mitchell)
Many texts and pictures of mine reveal the everyday world in Bremen from an unusual point of view. My way of seeing is unusual, because I make a lot of time for people and places or sight them from a not ordinary angle. This approach finally gives me a wavering mental basis, on which I am able to act in the world.
This arduous way to become self-assured is a consequence of my personal history. In my parental home I was the only one, who took his high-school diploma, got an university degree and completed an academic training as a teacher. In my senior class I was the (almost) only one, who came from very modest circumstances. My verbal skills and my graphical talent brought about results early on.
In the end my relatives and my middle and upper class mates were unable to get on with those results of my creative work. Only a few teachers, who were especially affected by Christianity, comforted me. I, however, finally remained doubtful about the results of my creative work. Not before I was 40 years old, I got a certain, but also wavering assurance by most intensively facing up to the concrete phenomena of my lived-in world, especially in Bremen, again and again.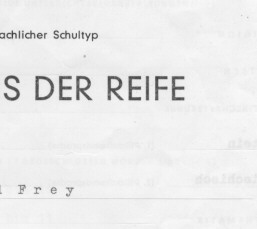 My high-school diploma, detail
Please also read this article
about the author of this website
.
Please also read Charlie Dittmeier's
report about a primary school in a poor part of the Cambodian province
.
The report is dated September 28 2006. The link leads to the latest entry of the diary. Please scroll down .
The international poster organisation Loesje has started a
project
to train young people from all over Europe and Asia in how to organise and coordinate information campaigns about the Millennium Development Goals. These goals are set by the United Nations to fight poverty and to improve living standards world wide.
Next issue 'The Daily Groove'
on Friday, November 20 2009


&lt
previous issue
next issue
&gt
We would like to point out that we translated articles from German into English for the purpose of service. We would like to make it clear that the German translations are deciding, because the articles are directed to users who live in Germany.
Wir möchten darauf hinweisen, dass wir zu Servicezwecken englische Übersetzungen vorgenommen haben. Klarstellen möchten wir, dass maßgeblich die deutsche Übersetzung ist. Grund dessen ist, dass wir uns an in Deutschland ansässige Nutzer wenden.
Please also read
Cats Talk (44)
place marker for advertisement


&nbsp