When choosing products or services, please consider our advertisers.


As far as dreams are concerned, you have to do a lot of work to make them come true.

Oliver Wennigies: Karl-Heinz, A journey of Father Christmas.Hamburg 2000

Writing doesn't reform the world, but it often alters a writer. There are about 1.6 Megabytes of text (proportionate to 800 pages with 2000 characters per page) I have written for my website. There are also nearly 200 pages of printed publications. These about 1000 pages of text almost only deal with the documentation of the daily life in the city of Bremen.

I didn't depict the daily life newspapers and weekly papers write about, for example about remarkable people, accidents, anniversaries and scandals. I have been trying to write about people, who are not making themselves a name as a public figure, about insignificant things, the constantly recuring course of daily events and 'The Daily Groove'.

I have been working this way for about ten years. But now the material of those texts is going to rebel against me.

There are a lot of causes to rebel. The daily grind of the European cities seems to be a constantly recuring course of daily events. But sometimes you can perceive a demonic will-o'-the -wisp in the dim light. When you are constantly staring at 'The Daily Groove', you are going to see that there are often a lot of contradictions and destructive forces behind the smooth machinery. My articles are associated by a lot of links. These links generate constant intellectual associations before my mind's eye. These associations are growing stronger and are going to be ideas.

Ideas of deep-seated contradictions and destructive forces put a strain on me, which I have to digest. But this strain has strangely enough released powers of imagination.A few weeks ago I didn't know that I have such a gift of imagination.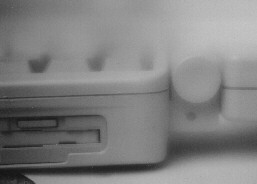 There is an other important fact. I am descended from a family of small workmen, small businessmen and subordinate salaried employees.Almost all my ancestors were distrustful of figments of imagination. They only counted on solid possibilities which came up in daily life. I have been writing all my life. But the overwhelming part of those texts deals with the pernickety documentation of very daily life. I think that those journalistic activities were a penitential journey I had to make to reconcile my ancestors to my writing.
But now I have atoned for the future blame I will take when I neglect the realism of the small workmen, small businessmen and subordinate salaried employees, who were my ancestors, and write about fictitious events. You needn't worry that you will find a literary work instead of reports about daily life at this place one day. And you'll find such work least of all at first click.
(My wife Christine helped me to translate the text. Thanks.)
Please also read:
Writing for the web (19)
Writing for the web (21)
Charlie Dittmeier's diary entry of September 14, 2002 about a
demonic real abyss
in a road in Phnom Penh. The link leads to the latest entry of the diary. Please scroll down.
Next issue 'The Daily Groove'
on Thursday, March 22 2007
&lt
previous issue
next issue
&gt
We would like to point out that we translated articles from German into English for the purpose of service. We would like to make it clear that the German translations are deciding, because the articles are directed to users who live in Germany.
Wir möchten darauf hinweisen, dass wir zu Servicezwecken englische Übersetzungen vorgenommen haben. Klarstellen möchten wir, dass maßgeblich die deutsche Übersetzung ist. Grund dessen ist, dass wir uns an in Deutschland ansässige Nutzer wenden.
Please also read
Cats Talk (33)
place marker for advertisement


&nbsp